They are clucking with us, the campaign launched by animal equality to expose the abuse of hens
CLIENT
Animal Equality
SERVICES
Creativity
Innovation
Audiovisual production
"They are clucking with us" (in Spanish "Nos están tocando los huevos") this hard-hitting phrase was printed on the banner we put up on November 31, 2020 in the Gran Vía in Madrid, so that Animal Equality could expose the abuse that hens suffer from in Spain. A teaser campaign that was unveiled on November 05, 2020 with the hashtag #VivirEncerrado that provided a chilling piece of information.
77% of these birds spend their entire lives in a space the size of a sheet of paper. They live locked up with hardly any space to move around. This is a feeling we all have experienced at some point during these months of quarantine. Animal Equality wanted to draw on it to expose this abuse, to get people talking about it and to collect enough signatures to bring about a change in legislation that would bring an end to the locking up of hens in cages. Something that affects all of us, considering that most of the eggs we consume come from hens that live in these extreme conditions.
The campaign, which began with an outdoor and printed format, was transformed into interactive media with the A4chicken.com website with audiovisual materials aimed at mobilizing people, including numerous digital content, and which was promoted by influencers, celebrities, and opinion leaders. The latter were sent a blood-stained box through the mail which included a note explaining about the action, and which asked for their support.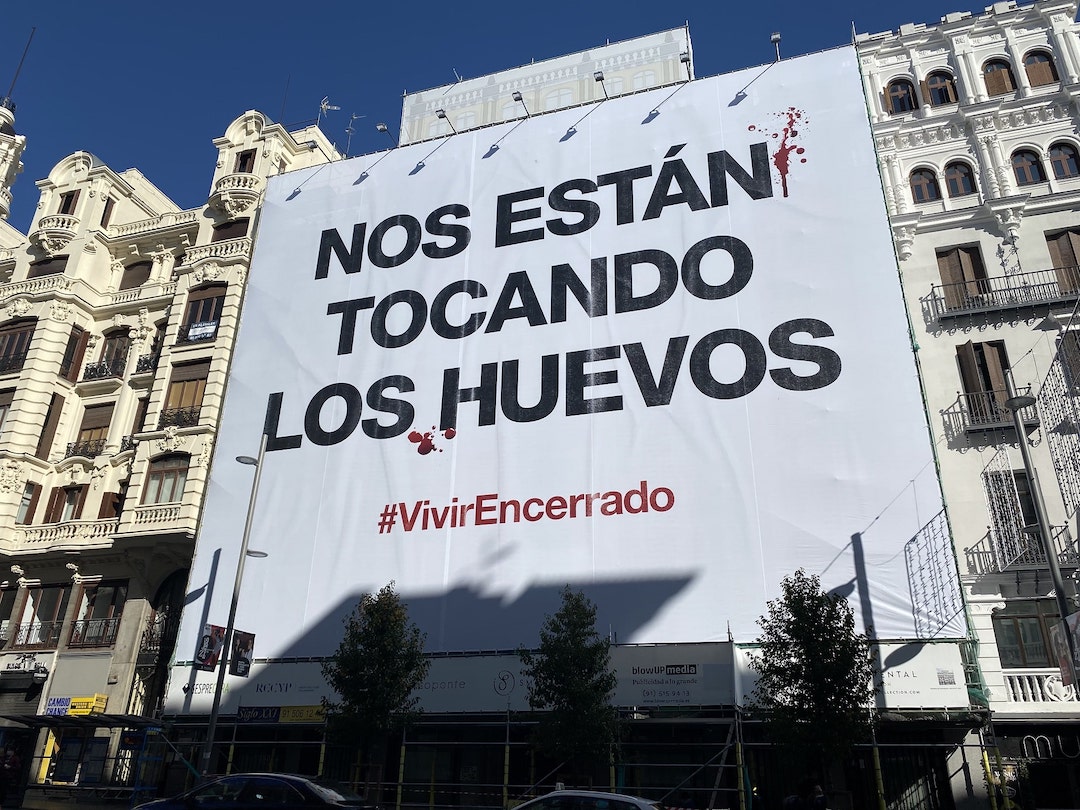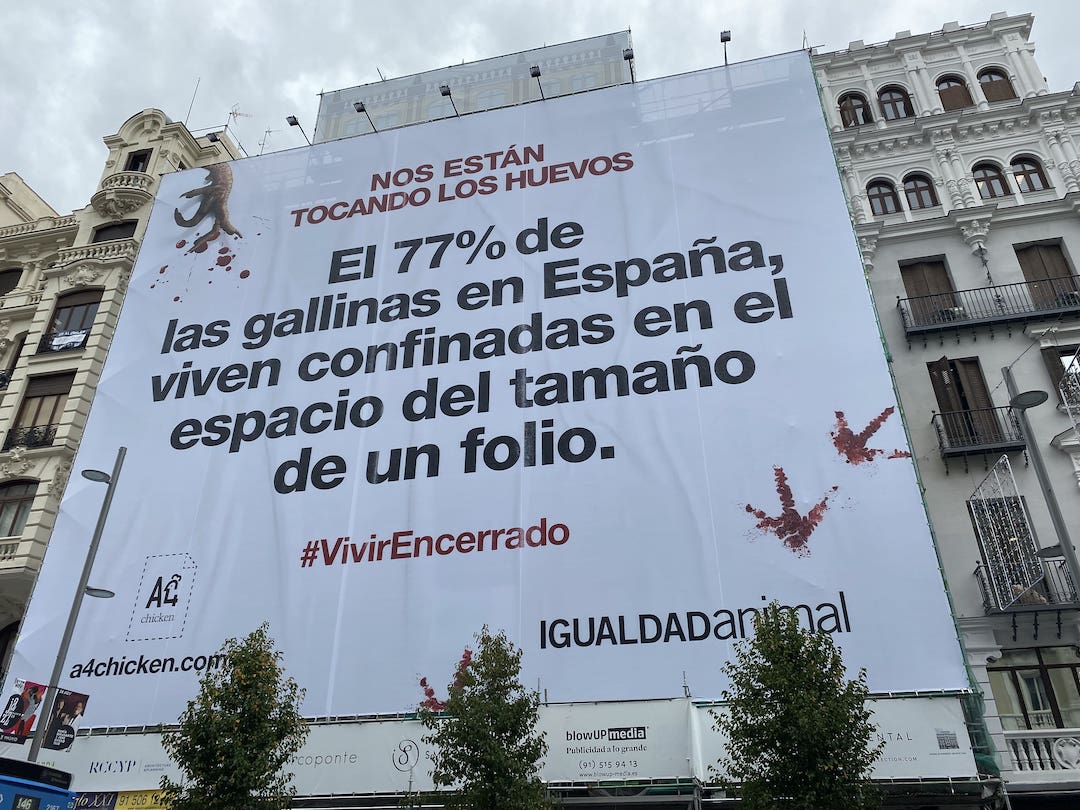 The petition to change the law can be found at the A4chicken.com website . At this website, users were encouraged to put themselves in the place of the hens and express on a page, either in writing or through the use of images, what living locked up meant to them. The best pieces will be included in a book with the objective of raising funds for the defense of animal rights.
The submissions have been full of things that have inspired us and changed our minds. But today, in that same space, the history we want to change is being written now, says the video created for the campaign. A way to rewrite the history of hens and to make the public aware of something that we can all prevent.
Our agency has been responsible for the strategy and creativity of the campaign.
The action, with an international scope, was the first undertaken by Animal Equality in Spain, and was also carried out, with our agency, in other countries (USA, Mexico, Brazil, United Kingdom, India, and Italy.
Data sheet
Agency: Darwin & Verne
Advertiser: Foundation for Animal Equality
Product: Foundation for Animal Equality
Client contact: Javier Moreno, Irene Rivero and Paula Toral.
Creative President: Carlos Sanz de Andino
CEO: Alberto Martínez
Executive Creative Director: Oscar Moreno
Creative team: Pablo Mendoza, Alicia Vilches, Irati Rincón and Pablo Vecilla
Account Director: Julia García
Design Director: César Bertazzo
Audiovisual Production team: María Jiménez and Miguel González
Technology team: Óscar Cordero, Lucía Rodríguez and Antonio Rodríguez
Content team: Bel Rodríguez and Cristina Sanchón
Media Agency: Arena
Arena team:
– Head of Digital: Leopoldo Empaire
– Strategic Projects Director: Traver Pacheco and Esla de Murga
– Client Business Partner: Mireia Álvarez
– Account Director: Mónica Iriarte
Title: A4Chicken.