Paradores launches its new campaign "Winter Lovers"
CLIENT
Paradores
SERVICES
Creativity
Audiovisual production
Digital
Darwin & Verne has chosen Italian artist Beppe Conti to illustrate the "Winter Lovers" campaign.
Winter is always a season that polarises feelings. There are those who hate it and those who love it and the latter, the true followers of the cold season, do so for everything that makes it special: snow and its unique landscapes, seasonal cuisine, sports and activities typical of winter, places wrapped in the warmth of a fireplace and above all for the great reunions that take place at this time of year.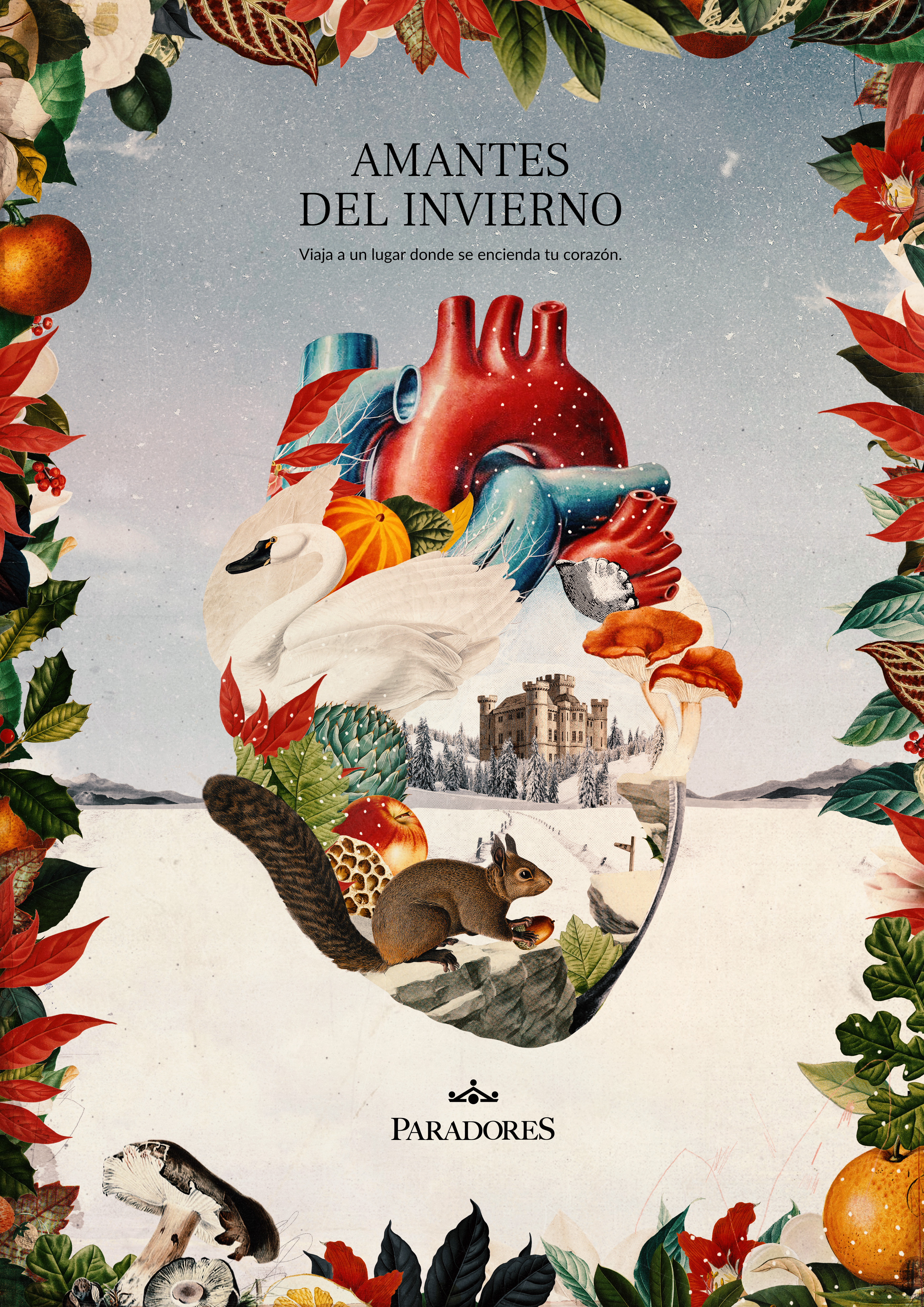 Based on this insight, the agency Darwin & Verne put together a message to connect with the emotions of all those winter lovers: "Travel to a place where the heart lights up."
Italian illustrator Beppe Conti was brought in to colour and illustrate this idea.
Beppe is a graphic designer who specialises in the collage technique and focuses his work on the fusion of images to express concepts by combining different digital techniques, mixing vintage images, textures and colours. Symbols, plants and anatomical features appear in his compositions, all assembled to reference surreal and ancient scenarios and dreams. The Italian designer has used a "heart" for this illustration because "I consider it the universal centre of emotions and passions, as well as the place where sincerity and depth of feelings reside. So I wanted the heart to be the home of all our elements". Using the digital collage technique, Beppe has mixed old scientific photos and illustrations to create something new, a magical and surreal world, as shown in the image he has created for the new Paradores campaign.
Data sheet
Agency: Darwin & Verne
Advertiser: Paradores
Product: Winter 2022 Campaign
Client contact: José Miguel Moreno, Fernando García García and Soledad Abril García.
Media Agency: Havas Media
Creative Chairman: Carlos Sanz de Andino
General Manager: Ignacio Huidobro
Accounts Director: María Hermida
Accounts team: Carlos Mazzucchelli and Andrea Gayo
Executive Creative Director: Óscar Moreno
Art direction and creativity: Alicia Vilches and Pablo Mendoza
Audiovisual production team: María Jiménez
Artist illustrator: Giuseppe Conti
Title: Winter Lovers
Pieces: 20" radio slot, print, press, digital, and social media.