"A journey into the heart of autumn". The new seasonal campaign for the Parador hotels.
CLIENT
Paradores
SERVICE
Creativity
CLIENT: Paradores
SERVICE: Creativity
Autumn is a time of year with a steep drop in tourism, yet it is a season that brings us such unique scenic, gastronomic, and leisure experiences in the whole year.
Thanks to their locations, architecture, fine food, activities, … experiencing autumn at a Parador hotel makes the absolute most of the season, a chance to feel the purest essence of autumn. Culture, food, heritage, and sustainability were the premises for developing our campaign concept "A journey into the heart of autumn", which emphasise the values that so characterise Parador hotels.
To illustrate the concept "A Journey to the Heart of Autumn", we had the collaboration of the Colombian illustrator Randy Mora, who utilised a banquet to bring out all the wealth of culture, gastronomy, architecture and biodiversity that the Parador hotels have to offer.
Randy Mora is an illustrator specialising in branding and publishing, whose clients include the New York Times and Penguin Random House.
The campaign consists of a 20″ radio slot and print, digital and social media.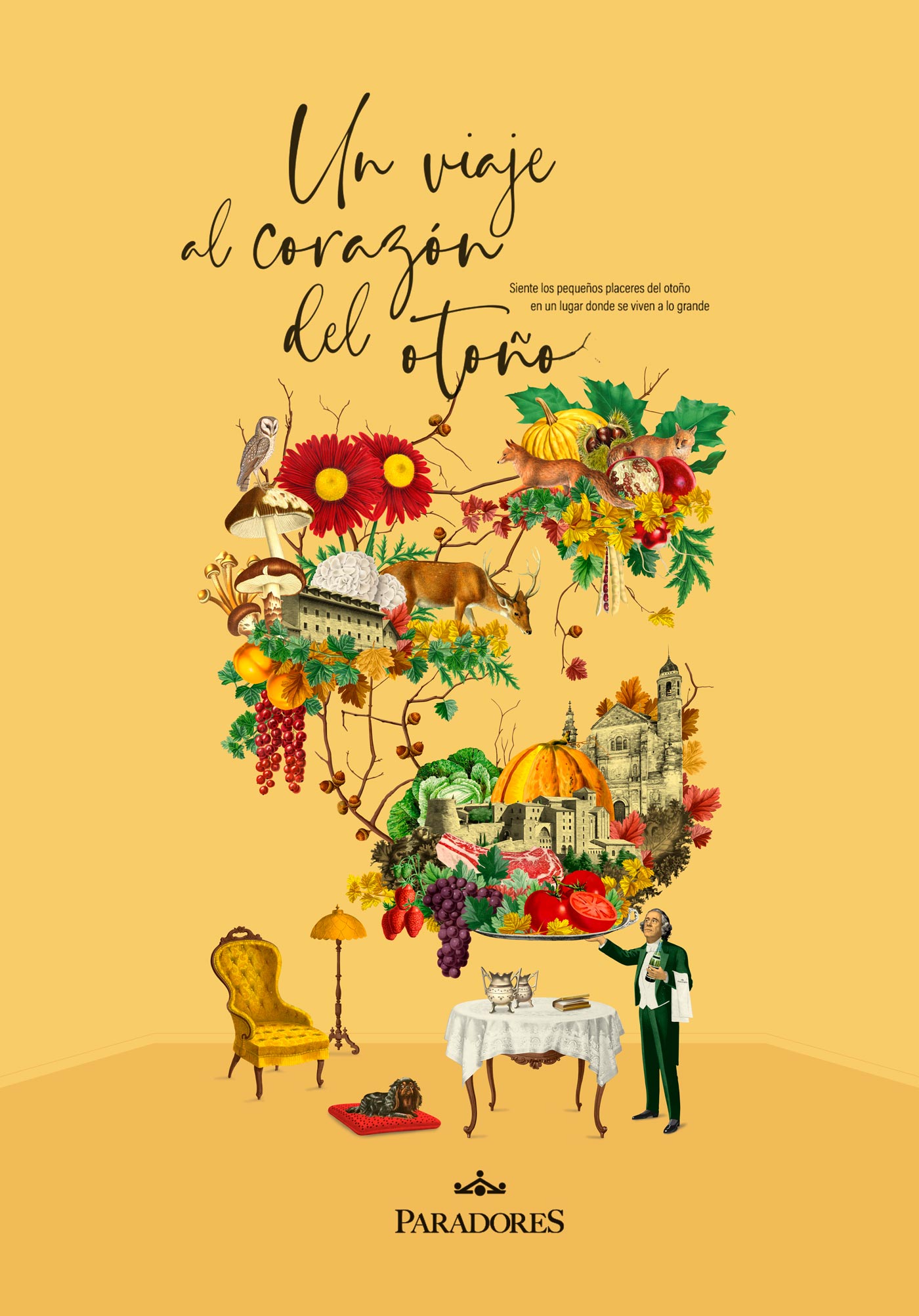 Data sheet
Agency: Darwin & Verne
Advertiser: Paradores
Product: Autumn 2021 Campaign
Client contact: José Antonio Trueba, Fernando García García and Soledad Abril García.
Media Agency: Havas Media
Creative Director: Carlos Sanz de Andino
CEO: Ignacio Huidobro
Account Director: María Hermida
Accounts team: Carlos Mazzucchelli and Andrea Gayo
Executive Creative Manager: Óscar Moreno
Art direction and creativity: Alicia Vilches and Pablo Mendoza
Audiovisual production team: Andrea Rosenschein and María Jimenez
Artist illustrator: Randy Mora
Title: "Journey to the heart of autumn"
Pieces: 20″ radio slot, print, press, digital, and social media.