"Unforgettable", the new Paradores campaign.
CUSTOMER
Paradores
SERVICES
Creativity
Contents
Audiovisual production
Digital
Spring is a special time at the Paradores, as nature awakens and blossoms in the gardens and surroundings of the hotels. Guests can enjoy outdoor activities ranging from country walks to hiking and cycling in nature parks and protected areas.
But what makes a stay in a Parador truly unforgettable are the unique experiences that can be lived in each one of them. Each Parador has its own history and character, which is reflected in its architecture, decoration and gastronomy. Guests can sample the classic dishes of the region in the hotel's restaurant, relax in the spa or swimming pools, or simply enjoy the tranquillity and beauty of the surroundings.
We designed this Parador campaign to invite travellers to discover the magic of spring in Spain and experience the authenticity and history of each Parador. A unique and unforgettable experience that combines luxury, history and nature, making it an ideal choice for those looking for a relaxing and cultural getaway.
We have the English artist Sarah Jarrett, whose work has been published in books, magazines, advertising campaigns, merchandising and exhibitions all over the world. "I define myself as a contemporary collage artist. I use digital and analogue processes and work with a variety of media. The common thread in all my images is the relationship of human beings with nature and the natural world portrayed with a sense of mystery and wonder. I am particularly interested in flowers and plants as metaphors, and hope to transport my viewers to an enchanting and mysterious world. The most important part of my creative process is to create images that have a unique emotional resonance with my audience".
On his work for Paradores, he comments: This work contains the feeling of a beautiful series of memories reflected inside the portrait. Nature, the appearance of spring, butterflies and birds live in the woman's inner garden as she remembers her stay in a beautiful place. I wanted the illustration to be full of beautiful colour and detail, evocative and memorable.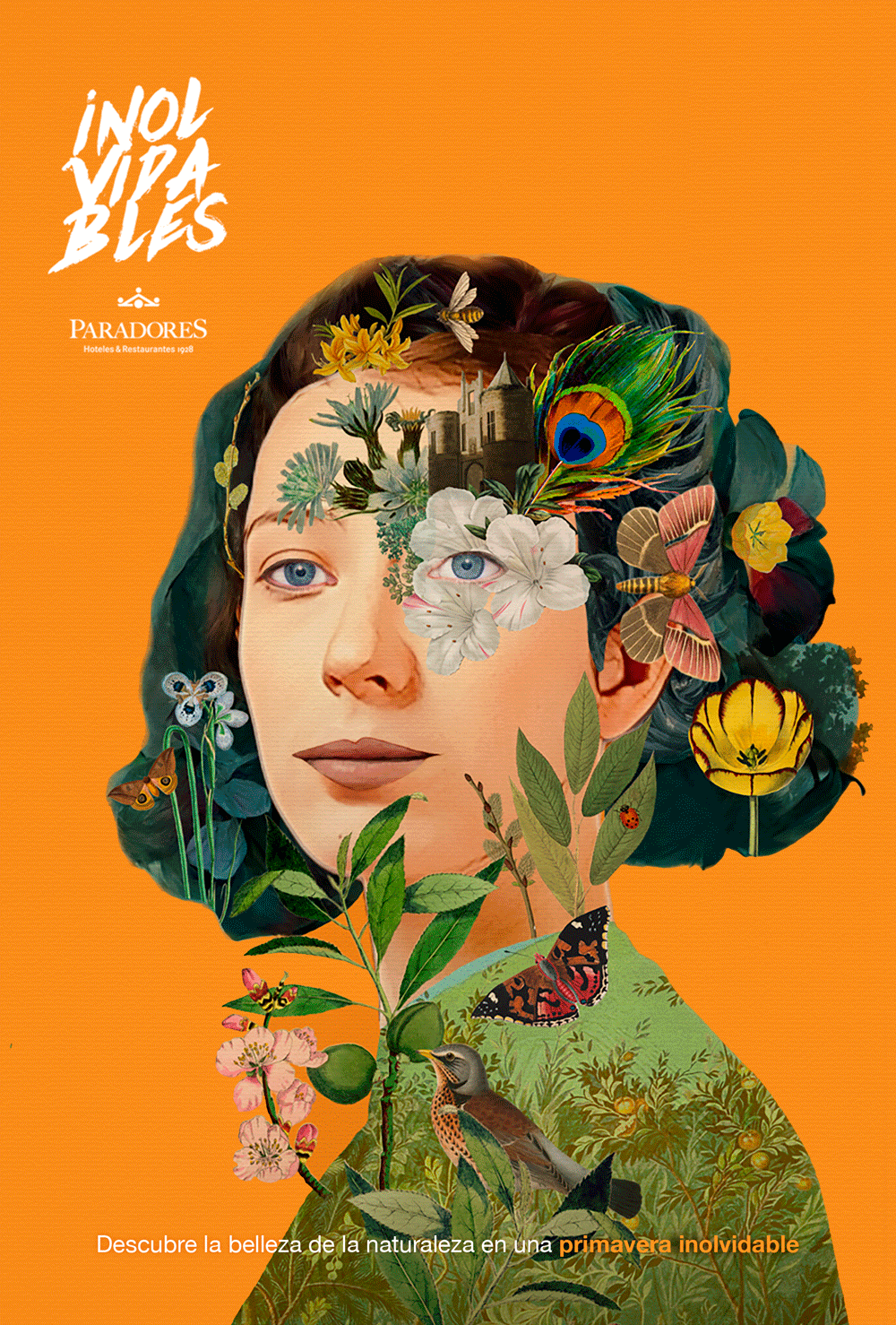 DATA SHEET
Agency: Darwin & Verne
Advertiser: Paradores
Product:  Campaña Primavera 2023
Client contacts: Fernando García and Cristina Martín
Creative President: Carlos Sanz de Andino
General Manager: Ignacio Huidobro
Accounts Director: María Hermida
Accounts team: Andrea Gayo and Claudia Bertó
Creative direction: Alicia Vilches and Pablo Mendoza
Illustrator: Sara Jarrett
Title: An Unforgettable Spring
Pieces: Graphics, website, print, display and social media.