What is the IOB or Internet of Behaviour? What is it for?
The concept is easy to understand: to use the data generated by digital environments to influence people's behaviour.
It has been quite a few years since the concept of the Internet of Things (IoT) appeared, where sensors and "conventional" objects could be connected to the network. This evolved into the Internet of Everything (IoE), where any object, animal, or person could generate data about itself and its environment, to then automate decisions. And it was in 2020 that the consultancy firm Gartner focused on the concept of the IoE and evolved it into the IoB, or Internet of Behaviour, as one of the strategic technology trends for 2021.
The application of these concepts has advantages in almost any sector: smart cars that are able to predict a potential breakdown, clinical devices that prescribe care plans to reduce emergencies… the possibilities are endless.
But if we are talking about influencing behaviour through the use of technology in the advertising industry, we are talking about using technology and the data generated by users to create campaigns that meet information needs, accompany them through the decision process, and guide their audiences to take action and maximise results.
Advertising and the Internet of Behaviour (IoB)
Many of you will say, well yes… but this is not new, agencies and brands analyse campaign data to define marketing strategies and find the right message in the right channel at the right time to optimise results.
The problem for brands is not the availability of data; the digital assets on which digital marketing actions are based produce hundreds of pieces of data. The problem is the ability to extract and integrate them with other sources to then view them in a format where the data becomes information about user behaviour; information that helps us describe, predict, and even recommend which marketing levers to use to maximise results. 
To have that layer of customer intelligence, you need to have technology, the right resources and, above all, the willingness to do it.
While years ago it was almost aspirational due to the high costs, technology is advancing by leaps and bounds, and this not only translates into greater data exploitation capacity, but also into lower prices. Therefore, costs are no longer a barrier to entry.
If technology is no longer an issue, then only two ingredients are missing: the resources and the willingness.
Some brands have the willingness and the resources, others have the willingness but are not sure where to start. We, at the agency, decided years ago to combine our creativity with advanced data analysis as a differential proposal for those brands that want to influence user behaviour.
This has led us to explore and create strong partnerships with technology partners that allow us to analyse behaviour from different perspectives, from analysing users' purchase intent based on their behaviour, to extracting more than 400 attributes thanks to Social Login technology and modelling a 360° profile of each lead based on their behaviour on social networks.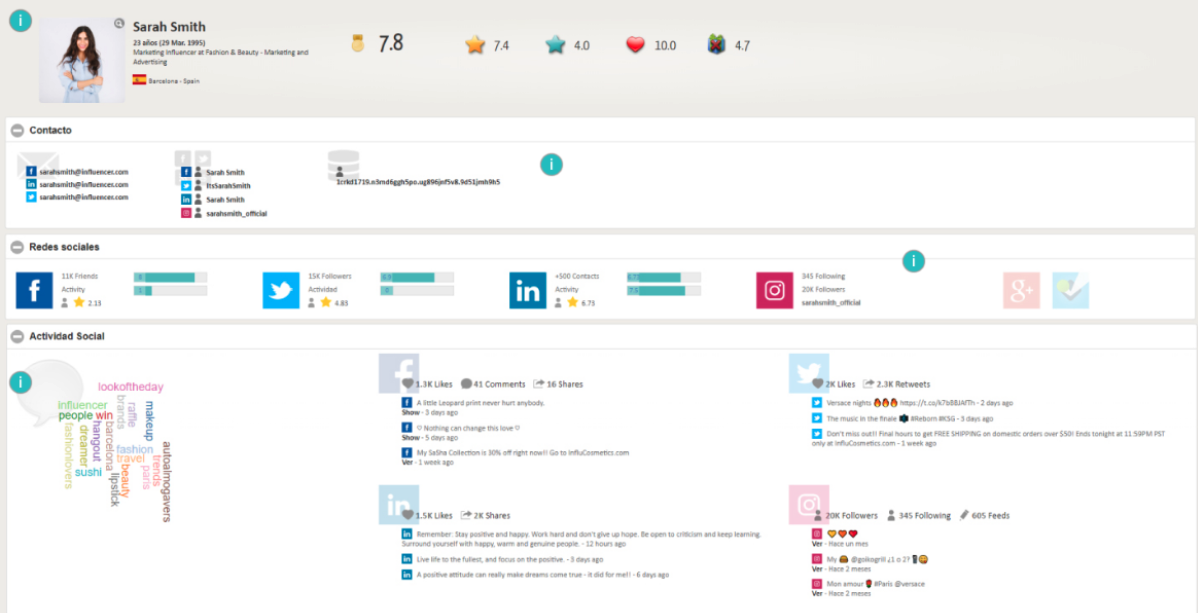 Xeerpa: https://xeerpa.com/home/
IOB + Inbound marketing = Exploratory data ecosystem analysis
Undoubtedly, one of the biggest advances in exploiting the data generated by users in each of the marketing, sales, and service phases is our alliance with Smartup, our strategic partner for executing customer and business intelligence projects. 
Thanks to this alliance, we provide our clients with a framework that allows us to map all the data sources involved in the decision process to then understand the latent opportunity when applying analytical models that help us predict and recommend behaviour. 

Why do we do it?
Firstly, because we believe that brands that exploit user data to guide their advertising and marketing efforts will have a clear competitive advantage in the marketplace.
Secondly, because we act as enablers for our clients: we said that technology, resources, and willingness were necessary. Technology is not a problem, we provide the resources and, therefore, there is only one ingredient that brands have to provide: the willingness!